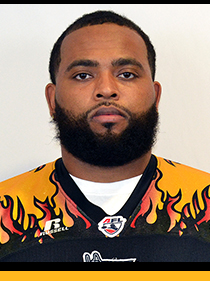 Position

FB

Height

6-1

Weight

305

College

St Augustines

Experience

2

Jersey

#34
#34
AFL EXPERIENCE: In 2015, Martinez started 17 games for the Spokane Shock. As a rookie in 2014, he made five starts as a rookie for the Spokane Shock.
OTHER PRO EXPERIENCE: Seattle Seahawks (2014).
COLLEGE EXPERIENCE: Played both guard and center at St. Augustine's, anchoring a unit that helped tailback Walter Sanders earn CIAA Offensive Player of the Year honors in 2010.
RECEIVING STATISTICS
YEAR
TEAM
REC
YARDS
YDS/REC
LONG
TD
2015
SPO
1
5
5.0
5
0
TOTAL
(2 years)
1
5
5.0
5.0
0
KICK RETURN STATISTICS
YEAR
TEAM
NO
YARDS
YDS/ATT
LONG
TD
2014
SPO
2
8
4.0
5
0
TOTAL
(2 years)
2
8
4.0
5
0
DEFENSE STATISTICS
YEAR
TEAM
SOLO
AST
TOT
SACKS
TFL
FF
FR
PBU
INT/YDS
2015
SPO
21
16
29.0
0.0
0.0
1
1
6
1/0
TOTAL
(2 years)
21
16
29.0
0.0
0.0
1
1
6
1/0
RUSHING STATISTICS
YEAR
TEAM
ATT
YDS
YDS/ATT
LG
TD
2014
SPO
15
36
2.4
12
3
2015
SPO
11
20
1.8
5
0
TOTAL
(2 years)
26
56
2.2
12
3