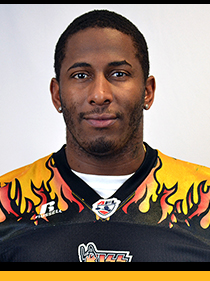 Position

WR

Height

6-3

Weight

214

College

LA Lafayette

Experience

7

Jersey

#1
#1
LA KISS 2015 SEASON: Named First Team All-Arena after hauling in a career-high and franchise record 2,074 receiving yards with 44 receiving touchdowns in 18 games with the LA KISS.
AFL EXPERIENCE: Earned Second Team All-Arena honors after setting LA KISS franchise records with 141 receptions for 1,878 yards and 37 touchdowns in 18 games with the team in 2014. Caught 87 passes for 1,351 yards and 29 touchdowns in 13 games with the New Orleans VooDoo in 2013. Collected 79 catches for 1,020 yards and 26 touchdowns in 11 games with the Philadelphia Soul in 2012. In 2011 Morgan was selected Second-Team All-Arena upon catching 121 balls for a single-season franchise record 1,959 yards and 37 touchdowns with the Philadelphia Soul. During the 2010 season, he was selected First-Team All-Arena after hauling in a single-season franchise record 123 receptions for 1,707 yards and 52 touchdowns with the Tulsa Talons. Morgan was named the 2008 AFL Rookie of the Year after recording 111 receptions for 1,281 yards and 24 touchdowns with the Chicago Rush.
OTHER PRO EXPERIENCE: New York Jets (2004); Tulsa Talons af2 (2005), set three af2 single-season records, including total touchdowns (57), receiving touchdowns (54) and scoring (346); Houston Texans (2005), caught four passes for 42 yards in three games; Kansas City Chiefs (2007); Buffalo Bills (2007); Chicago Slaughter CIFL (2009), named MVP of the 2009 CIFL championship game; Calgary Stampeders CFL (2011).
COLLEGE EXPERIENCE: Passed for 1,952 yards and nine touchdowns in 11 games as a senior at Southeastern Louisiana in 2012. Began his collegiate career at Mississippi, where he played in nine games, tossing four touchdowns and a pair of interceptions in limited action as a freshman and sophomore.
RECEIVING STATISTICS
YEAR
TEAM
REC
YARDS
YDS/REC
LONG
TD
2008
CHI
111
1281
11.5
--
24
2010
TUL
123
1707
13.9
45
52
2011
PHI
121
1959
16.2
46
37
2012
PHI
79
1020
12.9
45
26
2013
NOL
87
1351
15.5
47
29
2014
LA
141
1878
13.3
47
37
2015
LA
132
2074
15.7
48
44
TOTAL
(7 years)
794
11270
14.2
48
249
RUSHING STATISTICS
YEAR
TEAM
ATT
YDS
YDS/ATT
LG
TD
2008
CHI
11
36
3.3
--
1
2011
PHI
6
6
1.0
5
1
2012
PHI
10
84
8.4
12
1
2013
NOL
5
21
4.2
13
0
2014
LA
6
27
4.5
9
0
2015
LA
2
4
2.0
4
0
TOTAL
(7 years)
40
178
4.5
13
3
DEFENSE STATISTICS
YEAR
TEAM
SOLO
AST
TOT
SACKS
TFL
FF
FR
PBU
INT/YDS
2008
CHI
4
3
5.5
0.0
0.0
0
0
0
0/0
2010
TUL
3
1
3.5
0.0
0.0
0
0
0
0/0
2011
PHI
4
0
4.0
0.0
0.0
0
0
0
0/0
2012
PHI
1
1
1.5
0.0
0.0
0
0
0
0/0
2013
NOL
5
0
5.0
0.0
0.0
0
0
0
0/0
2014
LA
8
0
8.0
0.0
0.0
0
0
0
0/0
2015
LA
5
0
5.0
0.0
0.0
0
0
0
0/0
TOTAL
(7 years)
30
5
32.5
0.0
0.0
0
0
0
0/0
KICK RETURN STATISTICS
YEAR
TEAM
NO
YARDS
YDS/ATT
LONG
TD
2014
LA
1
18
18.0
18
0
TOTAL
(7 years)
1
18
18.0
18
0