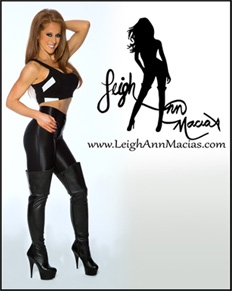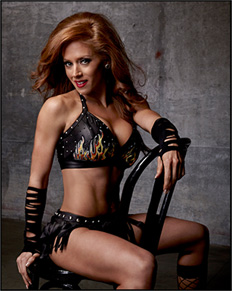 LeighAnn Macias to Lead the 2014 LA KISS Girls
LOS ANGELES (April 23, 2020) – LA KISS announce LeighAnn Macias as the LA KISS Girls Coordinator, Choreographer and Fitness Expert for the 2014 Arena Football season.
Macias' professional background includes the Denver Broncos of the NFL where she spent three years as a Denver Broncos Cheerleader and served as a captain. Macias says one of her fondest memories of being a Broncos' cheerleader were the AFE (Armed Forces Entertainment) Tours. She traveled to perform and support our troops in places that included: Egypt, the Sinai, and Guantanamo Bay, Cuba.
For the past six seasons she has appeared as a guest choreographer for the Denver Broncos Cheerleaders, other various professional sports teams, female music artists, & other gigs in the entertainment industry. In addition to her already impressive resume, LeighAnn currently hosts master classes, workshops, and teaches "Heels Class" at the world famous, Millennium Dance Complex, in Los Angeles. LeighAnn is studio trained in ballet, jazz, tap, lyrical, hip-hop and poms; she has a true passion for infusing dancing in heels with hip hop music.
LeighAnn made her move to Los Angeles after making it onto the Los Angeles Laker Girls team. From there she went on to dance in the entertainment industry & is currently represented by one of LA's top dancing and choreography agency's, Bloc Talent Agency. Macias is also the CEO and Founder of the all-purpose entertainment group, "The Ultimate Squad," which is intended to perform at various types of events: halftime shows, concert intermissions, cruises, special events, private parties, night clubs, USO/AFE Tours.
When presented with the opportunity to join LA KISS, LeighAnn jumped at the idea of getting involved with a new and edgy brand. "I was interested in doing this because LA KISS clearly differentiated themselves from other pro sports teams and had an "outside of the box" mentality for its dance team," said Macias. "Gene and Paul embraced my style of choreography and encouraged me to do what I always wanted to do with a professional dance team."
Macias has a degree in Human Performance and Sport along with a Minor in Nutrition. She has been running her own personal training company, Training Wheels, for the past seven years and has trained some of LA's top celebrities. With her extensive background in health and fitness, Macias has also taken on the role of Fitness Expert with the LA KISS Girls and aids them with personal training and nutritional expertise.
Brandy Bouchy, Director for the LA KISS Girls, is ecstatic to have LeighAnn on the LA KISS team. "Her amazing choreography and unique eye for creativity that she brings to the LA KISS Girls is unparalleled," says Brandy.
Owner, Brett Bouchy adds, "LeighAnn really takes the LA KISS Girls to the next level. She is an incredible choreographer and a great performer. In fact, I asked her to perform in the game with the Girls because, she enhances the entire team."
For more information on LeighAnn or to contact her, visit www.LeighAnnMacias.com
LA KISS and your LA KISS Girls are back at the Honda Center this Sunday, May 4th when the team will take on the Spokane Shock at 4PM (PDT). LA KISS single game tickets are on sale at ticketmaster.com or the Honda Center box office. For more information visit lakissfootball.com or call 714-462-KISS.