Multi-platinum legendary rock band KISS is set to put on an exclusive pre-game unplugged performance for all LA KISS season ticket holders

If you are a fan of the band KISS, rock music or just entertainment in general, you are in for a treat on April 2nd! The multi-platinum legendary rock band KISS will be putting on an unplugged performance for all 2016 LA KISS Season Ticket Holders before the home opener, when the LA KISS take on the Jacksonville Sharks. All current Season Ticket Holders are set for this rare opportunity to see the band, stripped down and makeup free. The band will be performing acoustic versions of their hit songs, which have sold 100 million copies worldwide. If you are not on board for the 2016 season, you will not be able to attend this epic event. Luckily season tickets are still available, but act soon, as they are going fast!
"We are really psyched to have KISS playing a pre-game performance for our Season Ticket Holders on opening day. We have great owners that are legendary performers and the fans love it when they see them at the games to cheer on the team", said LA KISS CEO, Joe Windham. "We have made some big off season acquisitions and expectations for the football team in its third year are running high. Gene and Paul are set to attend every game this year and help coax the team to finish in the top of the pack to secure a home playoff game. LA KISS will be upping the entertainment ante again by having KISS kick off the season in true rock fashion."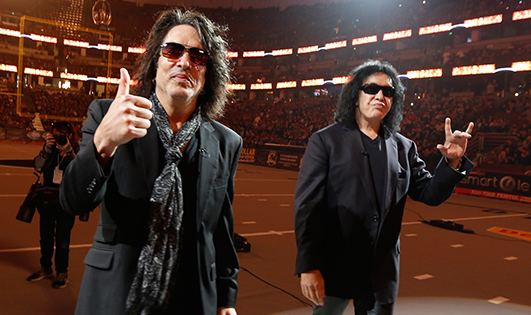 Paul and Gene salute the fans
Over their 40-plus year career KISS has become one of the most influential rock-and-roll bands of all time. Since the early 1970's, when LA KISS owners Gene Simmons and Paul Stanley formed the band, KISS has achieved many staggering career milestones and performed decades of record-breaking national and international tours. The KISS resume includes 40 million records sold in the U.S. and 28 gold albums. Even though the band was inducted into the Rock and Roll Hall of Fame in 2014, they still continue to sell out venues around the world.
This is the moment that so many LA KISS fans have been waiting for! Now all LA KISS Season Ticket Holders will be able to see the owners of their team, Gene Simmons and Paul Stanley, perform, just for LA KISS fans, in an up-close and personal, intimate setting at the Honda Center. Don't miss out; reserve your seats now!
LA KISS season ticket holders get an experience unlike anything else in sports. Not only do they get to attend the most fast-paced, high-action football around, they also get to watch concerts, pyrotechnic shows, laser lights and other great performers. The LA KISS head into their third season with a revamped roster and a new head coach; this will definitely be the season to watch for the LA KISS.
For more information about LA KISS season tickets packages or single game tickets, please call 714-462-KISS (5477) or visit LAKISSFootball.com.