Leonsis, Monumental Sports Acquire Rights to New AFL Team in Washington D.C.
Story URL: http://www.arenafootball.com/sports/a-footbl/spec-rel/031016aaa.html
Verizon Center to Host Games Starting in 2017
LAS VEGAS (March 10, 2021) – In a major step in a plan to rebuild the Arena Football League brand, Commissioner Scott C. Butera announced today that the League has awarded a team to Washington, D.C. based Monumental Sports & Entertainment (MSE). The deal means a return of the indoor game to the Nation's Capital beginning with the 2017 season.
The sale means that MSE, led by majority owner Ted Leonsis, owner of Washington's NBA Wizards and NHL Capitals, will become a member of the AFL owner group. The new team will play in the Verizon Center and will have its games carried on Monumental Sports Network, which MSE is re-launching this week, as well as ESPN and CBS Sports Network.
"Having MSE and Mr. Leonsis join our ranks is a Monumental development for the AFL," Butera said. "It adds tremendous value to our League and it is an indication that our plan to rebrand the indoor game is headed in the right direction."
Butera is entering his second season as AFL Commissioner and he has said that the first step in revitalizing the League was to stabilize the base, a mission that was largely achieved in 2015 with a shakeout in franchise participation. The next move in Butera's plan focuses on adding franchises in major media markets around the country.
"The AFL has a lot going for it," he said. "More than 20 million people watched our games last season. The sport is a fan favorite 365 days a year. We offer an authentic football product in the summer when there is a deficit in football programming. We have renewed broadcast contracts.
"In short we are becoming a strong partner for sponsors who want to develop and sustain meaningful interactions with football fans all year long," he continued.
Butera will officially welcome MSE and Leonsis to the AFL ownership group at an event in Washington on March 16 at the Verizon Center. Featured will be other well-known AFL owners including Ron Jaworski (Philadelphia Soul) and Gene Simmons (LA KISS).
"We are delighted to have MSE in the League," Butera concluded. "It makes Washington one of our marquis operations. It gives the AFL access to expert professional sports management and a new media partner. And it is an important first step in our effort to rejuvenate the AFL brand presence in American sports."
About the AFL
The Arena Football League enters its 29th Season in 2016. Since its inception in 1987, the Arena Football League has showcased a fast-paced and exciting game to millions of fans in a myriad of markets across the country. The ESPN family of networks and CBS Sports Network nationally broadcast AFL games each week, culminating with the ArenaBowl on ESPN.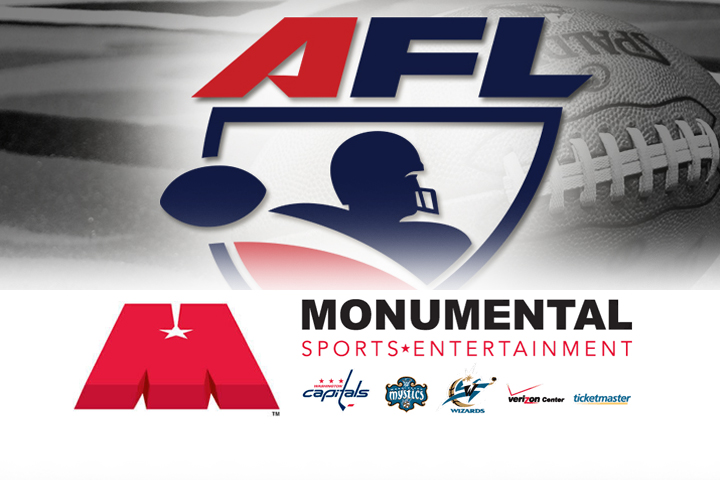 #AFL29