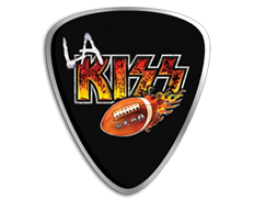 06/07/2020
LA KISS FALL TO THE SAN JOSE SABERCATS 35-63
The LA KISS (2-9) fell to the San Jose SaberCats (8-4), 35-63 Saturday evening.
The SaberCats started the game with a big gain when quarterback Nathan Stanley found Reggie Davis on a 39-yard reception. On the next play, Stanley hit Jason Willis for a six-yard score.

The KISS responded quickly. After a long return by Los Angeles' A.J. Cruz (39 yards), quarterback Aaron Garcia connected with offensive lineman Julius Wilson on a screen play which traveled 17 yards to the end zone.
San Jose scored the game's next two touchdowns on passes to rookie wide receiver Dominiqu Curry (15 and 13 yards, respectively).
It was a night of 39 as Garcia threw a 39-yard touchdown pass to wide receiver Donovan Morgan with 8:39 in the second quarter, making the score 21-14. The SaberCats then scored on a seven-play, 6:42 series capped by a 31-yard pass from Stanley to Jason Willis.
The KISS were unable to capitalize on a failed SaberCats onside kick and San Jose scored on the following drive, just before the half (Stanley to Reggie Gray on a 10-yard pass with :10 left).
Los Angeles opened the second half on a 26-yard aerial score (Garcia to Morgan), making things 21-35 after the kick. The KISS continued the offensive surge on the following possession, capping a four-play drive with another Garcia-to-Morgan connection (27 yards).
Following two scoring drives by the SaberCats, the LA KISS tacked on seven points with the game's final Garcia-Morgan connection (leaving the score at 35-49).
San Jose scored twice in the final minute on a 16-yard pass and a 13-yard interception return by Simeon Castille to end the game at 35-63.
The KISS return home next Saturday to take on the Portland Thunder. The game kicks off at 7:00PM (PDT). Single game tickets are still available at ticketmaster.com or the Honda Center box office.
For more information about LA KISS visit lakissfootball.com or call 714-462-KISS.