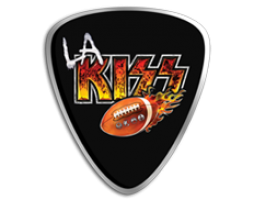 05/25/2014
LA KISS FALL TO UNDEFEATED ARIZONA RATTLERS, 70-25
With more than 11,000 fans in attendance, the LA KISS (2-8) fell to the undefeated Arizona Rattlers (10-0) Sunday evening, 70-25.
The KISS struck first on the home team's opening drive – which was capped off by a 2-yard touchdown rush by Andres Vargas. Arizona responded quickly on a 20-yard touchdown pass from Nick Davila to receiver Kerry Reed. After the extra point, the game was tied 7-7. Arizona defensive back Marquis Floyd returned an interception 15 yards on the following LA KISS drive (4:10 left in the quarter), making the score 14-7.
The Rattlers opened the second quarter on a rushing touchdown by fullback Alex Singleton. Los Angeles fired back, capitalizing on a long, AJ Cruz kickoff return. In the subsequent series, quarterback Tyler Hansen scored on a 1-yard keeper.
Arizona then pulled ahead on a 19-yard pass from Davila to Reed with a completed kick from Casey Barth. Then, with just a little over a minute left in the half (1:10), Davila passed to wide receiver Nick Miller for a 6-yard touchdown. Barth's kick was good, making the score at 35-13 in favor of the Rattlers. With two seconds on the clock, the KISS responded on a 14-yard touchdown pass from quarterback Aaron Garcia to Donovan Morgan. The teams entered half-time with the score 35-19.
Despite being able to move the ball, the KISS were unable to find the end zone much of the second half. Meanwhile, Arizona continued to score. The Rattlers' Davila passed for three more touchdowns in the third quarter including one 45-yard pass to receiver Rod Windsor and two shorter passes (5 and 14 yards, respectively) to Reed.
Arizona's backup quarterback Jason Murrieta kept things going for the Rattlers in the fourth with a 13-yard touchdown pass to Singleton. Another completed kick from Barth put Arizona up 63-19 with 8:28 left in play. KISS quarterback Hansen followed with a 2-yard pass to receiver Samora Goodson, making things 63-25.
The final points of tonight's matchup came when Arizona's Singleton ran the ball in for a 2-yard touchdown. Barth subsequently hit his tenth kick of the night, ending things at 70-25.
Los Angeles has a bye next week and will get ready to take on the San Jose SaberCats June 7 in Week 13 of the 2014 Arena Football League season. Kickoff is set for 7:30 p.m. (PDT).
For more information about LA KISS visit lakissfootball.com or call 714-462-KISS.
Russell Athletic Offensive Player of the Game – AZ Nick Davila
Riddell Defensive Player of the Game – AZ Marquis Floyd
J Lewis Small Playmaker of the Game – AZ Kerry Reed
Cutters Catch of the Game – AZ Kerry Reed
AFL Highlight of the Game – LA Donovan Morgan one-handed catch