LA KISS Wide Receiver Recognized for Exceptional Week 9 Performance
Anaheim, CA—The Arena Football League announced that LA KISS wide receiver Donovan Morgan (6'3, 215, Louisiana-Lafayette) has been awarded the Week 9 "J. Lewis Small Playmaker of the Week" for his performance last Saturday's game against the Portland Steel. The award is Morgan's second of the 2016 season, following his "Cutters Catch of the Week" award from Week 1, and the fourth for the LA KISS. Defensive backs Rayshaun Kizer and Josh Victorian received the "Riddell Defensive Player of the Week" awards in Week 3 and Week 6, respectively.
"Donovan has stepped up his game over the past few weeks," said LA KISS Head Coach Omarr Smith. "He is one of the AFL's all-time great receivers and we look forward to seeing what he will be able to do the rest of the season as he becomes more confortable with our offense."
Morgan led the LA KISS receiving corps with seven catches for 100 yards and four touchdowns in the LA KISS' 54-42 victory. During the game, he moved into the seventh position of the AFL all-time receiving yards leaderboard. So far this season, the LA KISS' all-time leading receiver has recorded 48 receptions for 624 yards and 21 touchdowns.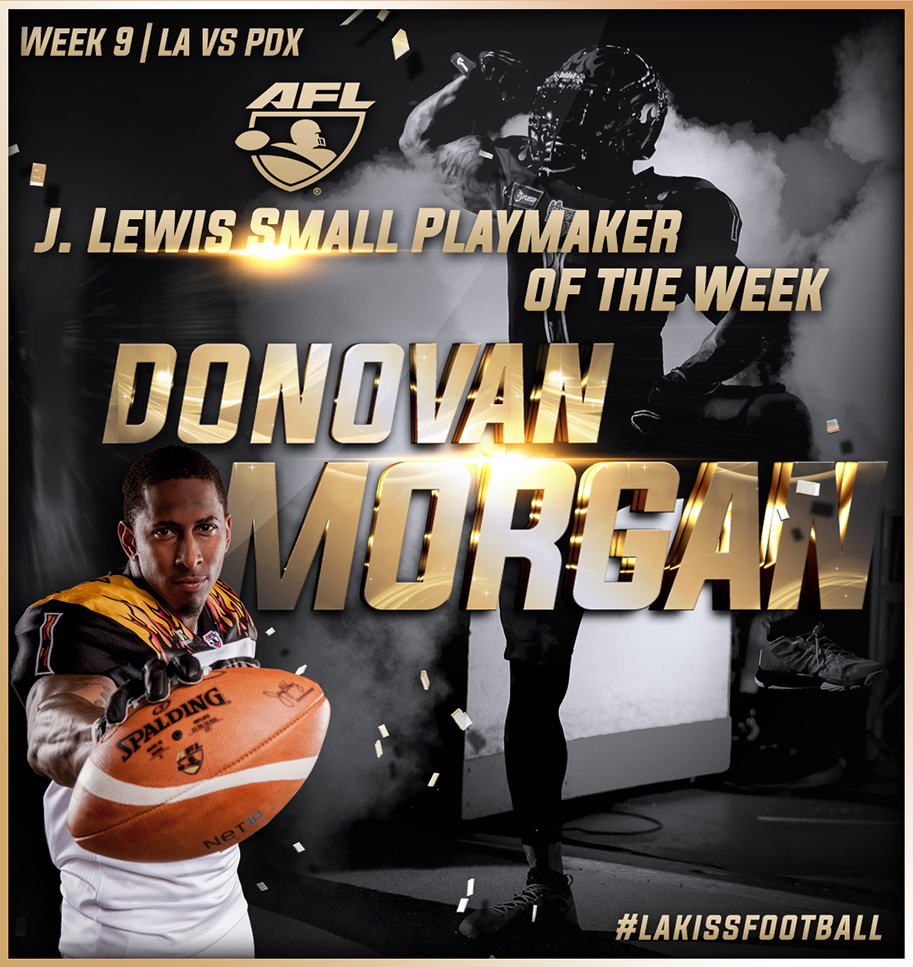 The LA KISS will look to find more success on Sunday, June 5th when they host the Orlando Predators at the Honda Center. Kickoff is set for 3:00 p.m. and the game will be available to be streamed live on ESPN3/WatchESPN.
ABOUT LA KISS FOOTBALL:
Paul Stanley and Gene Simmons, two of the greatest showmen of all time, brought pro football to Los Angeles with the formation of LA KISS Football. Now in their third year, LA KISS has become a phenomenon by taking the KISS mentality and applying it to a sports team. LA KISS represents the fusion of entertainment and sports like no other brand and delivers an all-encompassing in-game experience that is second to none. LA KISS ownership combines over 40 years of success in both entertainment, sports and business. The leadership team looks to challenge and redefine the term "sports entertainment" by applying the KISS mindset to everything they do. For more information, visit lakissfootball.com or follow the team on Facebook, Twitter or Instagram.