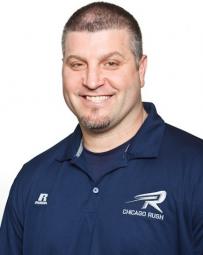 Today, LA KISS Co-Owners Gene Simmons, Paul Stanley, Doc McGhee and Brett Bouchy have announced the inaugural Head Coach of the team as AFL veteran, Bob McMillen.
Before joining LA KISS as their new head coach, McMillen had a lengthy playing career in the AFL and retired in 2007 as the league's second all-time leading rusher for both career yards and rushing attempts. After retiring as a player, McMillen was hired by the Chicago Rush and served as Head Coach for the team for three years. In 2013 McMillen was also elected into the AFL Hall of Fame for his services to the game.
Brett Bouchy, co-owner of LA KISS said "During our search for the first-ever head coach of LA KISS, we knew we had to get a coach with relevant AFL playing and coaching experience – someone well respected around the league and beyond."
In 2013, McMillen received Head Coach of the Year honors from the Arena Football League and was elected into the Arena Football Hall of Fame.
"I'm beyond excited to be given the honor of being named the first head coach of LA KISS," stated Bob McMillen, head coach of LA KISS. "I'm very much looking forward to putting in the hard work with our team and owners, and in the end producing a top tier product both on and off the field."
McMillen will be tasked with leading the charge for LA KISS on the field in their inaugural season, and expectations will be high with the new AFL franchise. LA KISS ownership is confident in his ability to lead the team and field an excellent team that will be expected to make an immediate impact.
Gene Simmons of KISS said, "We're proud to announce Bob McMillen as head coach of our LA KISS AFL team. Bob shares our passion for bringing real, in-your-face football to the fans and he has a take no prisoner's attitude which is the LA KISS philosophy. Go big, or go home."
Paul Stanley of Kiss added "Bob McMillen is another step in deepening our line in the sand. From the ground up we are building a team that will accept nothing less than victory. We will win." The AFL (www.arenafootball.com), which is dedicated to playing and promoting in-arena professional football around the world, will mark its 27th season in 2014, as well as the inaugural season for LA KISS. For more information on LA KISS, or to purchase season tickets, please visit www.lakissfootball.com.